New Way to Thrive We live in a time of great opportunity and challenge. We're moving out of the old paradigm of merely surviving. Now is the time for each of us to embrace the new expanded paradigm of fully thriving! How do you embrace your personal thriving? Many of us experience periods of depression, un-explainable fatigue, stress, and discouragement from time to time. However there is a vast body of scientific studies concluding that diet plays a pivotal role in the reduction of these symptoms.
Macro-Nutrients Eating plenty of nutrient-rich superfoods daily is a key component in fully thriving. Sarvaa Superfoods contain clean, easy to absorb Macro-Nutrients such as plant-based protein, fiber, and excellent quality fats and carbohydrates.
Micro-Nutrients And for many of you, the solution to improving your health, happiness, and more positive moods may be improving your overall intake of Micro-Nutrients. But don't let the word "micro" decieve you into thinking that they are not as important to your daily experience of health and vitality! On the contrary, almost everyone gets plenty of the more well-known macro-nutrients. However, the vast collection of Micro Nutrients are virtually impossible to obtain from typical foods that are grown in poor soils, or are simply not rich in Micro-Nutrients to begin with. The hard working Micro-Nutrients are absolutely critical to everything our bodies do minute by minute! Brain function, improved metabolism, skin tone, eyesight, muscle tone, bone density, hair health, digestion, absorbsion, elimination of toxins, deep sleep, sexual function, hormone balance, and last but not least disease prevention! in each of your cells. You've all heard of the Micro-Nutrients such as magnesium, calcium, iron but are you aware that there are ten other minerals that all help to stabilize your nervous system and lessen fatigue. Everyone is aware of the popular vitamins, but few recall the other vitamins such as the six essential Carotenoids.
Glycemic Index You may know that one of the important factors is good mood is discovering what your tolerance is for sugars and starches in general, and specific foods that may spike your blood sugar and help you "feel good" for 10-20 minutes, but then experience a low blood sugar swing that may make you crave another hit of sugars or starches. This is a very unhelpful and un-sustainable way to live. All of Sarvaa Superfoods are "low glycemic" and won't leave you with the "sugar blues". Superfoods are excellent way to feel light, energized, supported, and clean. *
Stress Relief An important element of Sarvaa Superfoods is the use of "adaptogens" in all products! What are adaptogens? Adaptogens include Superfoods such as Tulsi (Holy Basil), Ashwaganda, Maca , Reishi Mushroom, Rhodiola Root, Ginseng Root, Camu Camu Berries, Cordyceps Mushroom and many more. These superfoods are unique in that they support the body's ability to handle stress which can include your lifestyle, work, relationships, environment, lack of deep sleep and toxins. Adaptogens are tremendously valuable to maintaining an enthusiastic, positive, and energized state which affects not only your personal well-being but those around you! *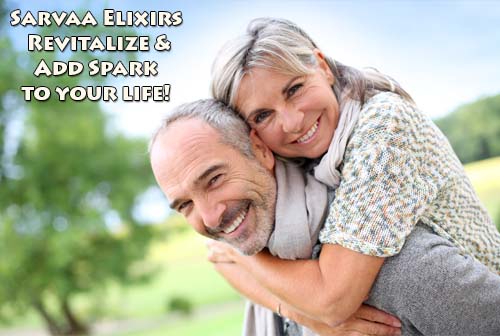 One of the absolute best mood-enhancing superfoods is Cacao. Cacao is chocolate in its raw, unprocessed form. Cacao is loaded with uplifting endorphins, anti-oxidants, magnesium, iron, and Omega 6 fatty acids. A diet rich in cacao is an essential part of feeling blissful and happy as it is known to reduce anxiety and improve our mental and physical health.
Check out the popular Cacao Plus! Mayan Chocolate Strength Elixir and Vitality Elixir.

Lastly, here's a few of our favorite ways to obtain optimal health and well-being:
Eating lots of Superfoods
Plenty of Rest
Exercise that you Enjoy
Doing what you Love
*These statements have not been evaluated by the Food and Drug Administration. These products are not intended to diagnose, treat, cure, or prevent any disease.